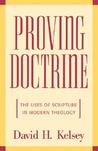 Proving Doctrine: The Uses of Scripture in Modern Theology by David H. Kelsey
My rating: 2 of 5 stars
I get the impression I am less enamored with this book than others I know.
First — No doubt, Kelsey excellently and insightfully frames the discussion of what it means to "be Biblical," and "use scripture to authorize theological proposals," etc. His posing questions and identification of the issues involved in this task of moving from scripture to theology are fantastic. However, I am less impressed and satisfied with his assessment of how one might go about answering those questions or navigating those issues. I would recommend John Frame's critical review (http://www.frame-poythress.org/review…). Frame summarizes my thoughts well: "Kelsey has written something which deserves to be criticized at this length. He has elevated discussion of these matters to a new height of sophistication. His insights are indispensable, his mistakes eminently worth thinking about."
Second — For a book that seeks to bring clarity to the discussion–and it certainly does much of that!–I think the book ironically suffers from being somewhat unclear and vague at points.
In short, I have rather mixed feelings about this book. That is why I gave it 2 stars–"it was ok." I certainly benefitted from reading it. And it has definitely launched me on a new adventure of thinking through these issues.